Shillong, Nov 3: Just two rounds remain in the Shillong Premier League 2019, with Shillong Lajong leading the way on 21 points, closely followed by Rangdajied United on 20.
Lajong were in action twice this past week and won both of their matches 1-0 against Nongrim Hills and Nangkiew Irat.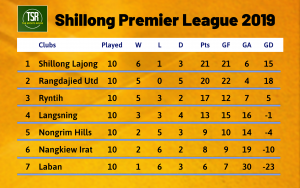 They weren't the most convincing of performances but SLFC got the job done and they reclaimed top spot. Rangdajied, meanwhile, had just the one game and thrashed Laban 6-0, which is par for the season for the latter.
Ryntih kept themselves in contention by defeating Langsning by a handsome 3-0 margin. Other than Lajong and Rangdajied, Ryntih are the only team mathematically capable of finishing the season in first place, but it looks very unlikely as they'd require some surprising results to go against the current top two.
Defeat to Ryntih meant that Langsning's two-year reign in the SPL came to an end this past week. But, funnily enough, they were also later assured of avoiding the relegation zone when Nangkiew went down to Lajong. Even if Langsning lose their two remaining fixtures they can fall no lower than fifth as Nongrim and Nangkiew still have to play each other.
Nongrim will be seen twice this coming week, first up against Rangdajied on Monday. In the first leg these teams played out an insipid 0-0 draw, which Rangdajied cannot afford again if they want to stay in the hunt for the title.
Ryntih should then dismiss Laban on Tuesday (though their first leg meeting only ended 1-0 in the former's favour) and then we'll see a couple of interesting matches in the form of Lajong versus Langsning on Friday and Nongrim-Nangkiew on Saturday.
Lajong beat Langsning 2-0 in the reverse fixture and are favourites for this contest as well. Langsning have failed to keep a clean sheet in any of their last five outings, while Lajong have not conceded since 17th October when Aman Ahlawat put the ball into his own net against RUFC (though that goal was awarded to Rangdajied's Aiborlang Khongjee by the officials).
Will Lajong have suspension worries for the game against Langsning? TSR isn't sure how many yellow cards a player has to earn before missing a match in the SPL, but Lajong have been surprisingly ill-disciplined of late, copping nine yellows in their last two games for a total of 24 bookings this season.
Fixtures for 4th to 9th Nov (kick-off at 2:45PM):
Monday – Nongrim Hills vs Rangdajied United
Tuesday – Laban vs Ryntih
Friday – Shillong Lajong vs Langsning
Saturday – Nangkiew Irat vs Nongrim Hills
(TSR photo)