Shillong, Nov 14: Rangdajied United and Langsning played out a goalless draw in the last match of the Shillong Premier League 2019 season.
It was an inconsequential fixture as neither side could improve on their positions in the standings (Rangdajied second and Langsning fourth) and they fielded largely second string players.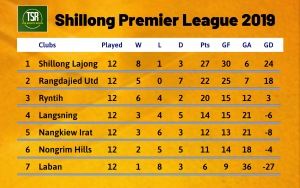 There were moments that were interesting, from Langsning especially, as nothing was really expected of them. In the first leg Rangdajied had beaten Langsning 4-2 on 7th October.
Rangdajied's best chance came after a foul in the box in the 90th minute, but a dive from Langsning goalkeeper Surjay Kumar Pariyar put Samson Nongrum's shot out.
This was Rangdajied's seventh draw (fifth goalless one) this season and they end with 22 points, five behind champions Shillong Lajong. Langsning finish on 14 points. This was only their third clean sheet this year and first since the second game.
The closing ceremony followed the end of the match. Details can be found here.
(TSR photo. Rangdajied United are in blue, Langsning in red)