Shillong, Oct 4: Meghalaya lost their fifth and final Vinoo Mankad Trophy match to Sikkim by 46 runs today in Ranchi.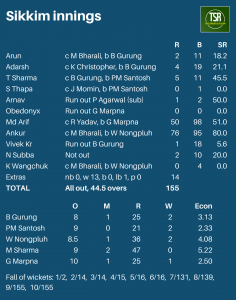 Meghalaya would have expected to have won the match when they had reduced their opponents to 16/6 after Sikkim won the toss and chose to bat first in the Plate Group fixture. But, even with their backs to the wall, Sikkim were able to muster a score of 155 all out in 44.5 overs after a seventh wicket stand of 115 saved their innings.
PM Santosh (2/21) and Bharat Gurung (2/25) bagged the early wickets while Gavineal Marpna (1/25) broke that decisive seventh wicket partnership that had frustrated Meghalaya. And, after sitting out the other matches, Wankitlang Nongpluh had a chance in the field today and claimed 2/36 – he dismissed Sikkim top-scorer Ankur for 76.
In the chase, Meghalaya needed around three runs an over and were fine with the required run rate but failed to hold on to their wickets.
The captain, Kevin Christopher, was the most successful batter today. Coming in at No. 4, he batted well for his unbeaten 41 but did not get the support needed at the other end, with partners coming and going in quick succession. Marpna hung around for a 40-ball score of 14 but it was not enough and Meghalaya were dismissed for 109 in 35.3 overs.
The Meghalayans thus ended their five-match campaign with one win, one no result and three defeats.