Shillong, Oct 4: Meghalaya ended their Women's U-19 One Day Trophy Plate Group campaign with their third defeat, this time to Jammu and Kashmir, today.
Their best batting performance still saw Meghalaya lose by 75 runs in Bhubaneshwar.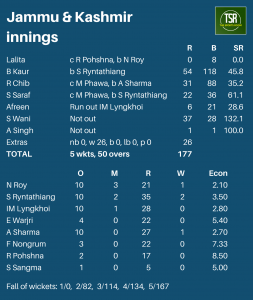 Meghalaya won the toss and put Kashmir in to bat first and Neelam Roy (1/21) delivered a wicket without even a run on the board. However, an 82-run second wicket partnership steadied proceedings for J&K, who finished their 50 overs on 177/5.
Sistilin Ryntathiang finished with the best figures for Meghalaya with 2/25, while Ankita Sharma claimed 1/27.
Meghalaya had, until today, failed to reach 100 in their previous innings but managed to do so today. Wayward bowling from Kashmir saw Extras contribute the most runs with 35 (including 31 wides), but three batters also saw their way into double figures.
Sharma topped with 20 runs off the bat, while Roy produced 16 and Emisakani Warjri was not out on 12 after coming in at No. 10. Still, Meghalaya, who had batted for 45.2 overs, were all out for 102.
Meghalaya thus bowed out of the competition with three defeats and two no results.