Shillong, Nov 23: Meghalaya suffered a seven-wicket defeat at the hands of Assam in their Plate Group match of the Men's U-25 State A Trophy in Guwahati today.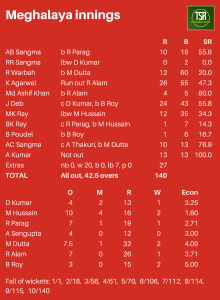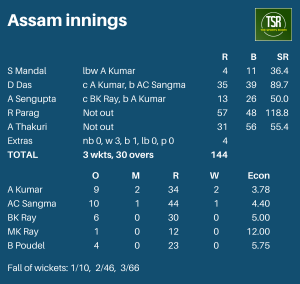 Batting first after winning the toss, Meghalaya were only able to make 140 all out in 42.5 overs, which Assam were able to chase down comfortably in 30 overs for the loss of three wickets.
Arien B Sangma reached double figures for the fourth consecutive match but was out for 10 at the top of the order. Kush Agarwal (26) and Roshan Warbah (12) put on a patient 38 for the third wicket and Joydeepan Deb (24) and Mukesh Kumar Ray (12) contributed 36 further down the order but these partnerships were not enough to get Meghalaya into a settled position from where they could attack at the death.
Agreas Chamcham Sangma (10) and Abhishek Kumar (13 not out) put on an entertaining 25 at the end of the innings to get Meghalaya to 140, which was a total that the bowlers could at least attempt to defend.
However, the hosts were supremely comfortable on their own turf and cruised to victory. Kumar (2/34) and Agreas (1/44) got three batters out between them but Assam, who have won all their matches so far and top the table, nailed the required runs with 20 overs to spare.
Meghalaya will next take on Arunachal Pradesh tomorrow. Arunachal have brought a strong team to the competition and have won three of their opening four fixtures.