Shillong, Dec 9: Meghalaya fell short by 31 runs in their chase on the fourth and final day of their U-19 Cooch Behar Trophy match against Sikkim in Bhubaneshwar today.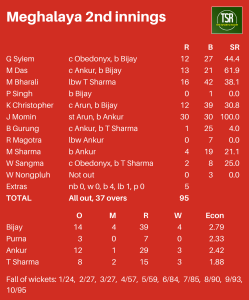 Rain delayed the start of play but the weather cleared enough to get some action, though Meghalaya would have to get a move on if they wanted to reach the target of 127 for victory.
Meghalaya could have played for a draw but went for the win instead. Unfortunately, though several batters in the top and middle orders got starts, there were not enough runs scored and Meghalaya were all out for 95.
While Josiah Momin was at the crease there was a measure of hope but he fell for 30, which was Meghalaya's top score. Four others got into double figures but no one scored more than 16.
This was the state's second consecutive loss. In both matches Meghalaya took a first innings lead but had to bat last, which is usually a challenge, and fell short in the end. The team will now take on board the valuable lessons learned as they prepare for the third game, against Mizoram from 13th December.