Shillong, Dec 14: A seven-wicket haul for Purav Agarwal (pictured left) and a century by captain Kevin Christopher (centre) saw Meghalaya trounce Mizoram by an innings and 149 runs inside two days in the U-19 Cooch Behar Trophy in Bhubaneshwar today.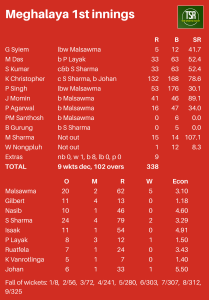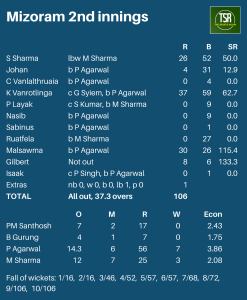 Resuming their first innings on 124/3, Meghalaya declared on 338/9, giving them a lead of 255. Mizoram were then dismissed in their second innings for 106, to go along with the 83 they managed in the first innings yesterday.
Christopher was not out on 37 overnight and he added another 95 runs today before getting out on 132, his third century of the tournament. His sensational innings included 18 fours and two sixes.
At the other end was Pawan Singh, who batted patiently in a supporting role for 53. Josiah Momin was more aggressive when he got to the middle, hitting his 41 off 46 deliveries as Meghalaya looked to get a move on. Agarwal (16) and Manish Sharma (15) added a few useful runs as well.
Mizoram might have hoped to stretch the match into a third day and they started the second innings well to be 16 for no loss at tea. However, they went on to lose all 10 wickets in the final session as Agarwal bowled his way to 7/56, giving him impressive match figures of 10/77.
He took his third and fourth wickets off consecutive deliveries, but could not grab a hat-trick. But his sixth and seventh wickets, which were of the last two batters, were also off consecutive balls, which means that he will be on a hat-trick again when he plays his next match.
Sharma (pictured right) claimed the other three wickets (3/25), which meant that he took 8/43 across the two innings.
By winning the match in double quick time, Meghalaya will now have five days' rest before returning to action against Nagaland on 20th December.
(Meghalaya Cricket Association photos)