Shillong, Sep 17: Imson won their final match of the First Division season 2-0 over Nongkrem at the JN Stadium here today.
W Iawphniaw (66′) and Meban Shylla (70′) enlivened the match after a slow start, which wasn't helped by the lack of spectators.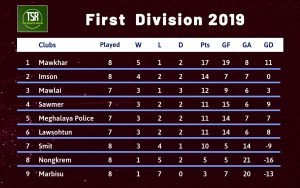 The match was largely for pride in Nongkrem's case as they could not avoid relegation no matter what happened.
Imson, meanwhile, jumped to second place with 14 points and they'll be watching for the results in the remaining two matches to see where they end up in the standings.
There will be no Shillong Premier League matches as preparations are underway to send a Meghalaya team for the Santosh Trophy North East qualifiers. The next match will be from the First Division on Thursday between Meghalaya Police and Lawsohtun at 3PM.