Shillong, Apr 28: Nongrim Hills delivered a stunning 2-1 upset over Sawmer in the Shillong Sports Association's First Division at Third Ground, Polo, here today.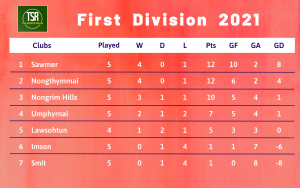 Sawmer had won all four of their previous matches and hadn't even conceded a single goal but today they went behind through Bankit Nongrum (3') and Jeremy Nongtdu (61') scoring for Nongrim. Banraplang Nongsteng pulled one back for Sawmer in the 73rd minute but his team couldn't find an equaliser.
Nongrim had to win the match to keep alive their chances of promotion. They now have 10 points from five games, behind leaders Sawmer and second-placed Nongthymmai on 12 each. Each side have one match remaining.
There will be no First Division matches until 9th May on account of next week's Meghalaya Games. The Women's League, however, will continue until Saturday.
Tomorrow's fixtures:
Women's League Group A – Mawlai vs Laitkor, 1PM
Women's League Group B – Nongthymmai vs Nongkrem, 3:30PM