Shillong, May 13: The office of the District Sports Officer of South West Khasi Hills conducted the 8th South West Khasi Hills District Level Inter-School Athletic Meet 2022, which concluded today.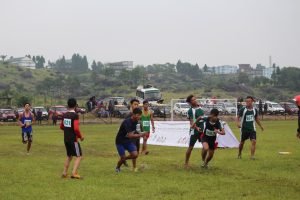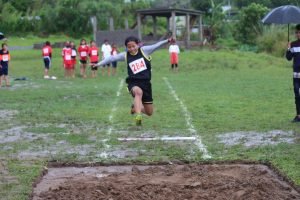 Despite the rain, nine schools took part in the meet, which began on Wednesday. There were 320 participating athletes, besides officials.
The meet was conducted according to three age categories for boys and girls – U-14, U-16 and U-18.
Deputy Commissioner Caramai Kharkongor was the chief guest at the opening ceremony, while Mawkyrwat MDC Carnes Sohshang was the chief guest at the closing. He also handed over the trophy for overall champions to Nativity Higher Secondary School.
Nativity HSS won 21 gold medals, 12 silver and 10 bronze. Jakrem Presbyterian HSS finished in second place with 15 gold, 12 silver and 11 bronze.
Best athlete awards:
U-14 boys – Jobatstar Kharlyngdoh of Mawrwangkynda Church of God Sec School
U-14 girls – Latympang L Marshillong of Nativity HSS
U-16 boys – Bajoplang Sohshang of Nativity HSS
U-16 girls – Badaphun Nongrem of Nativity HSS
U-18 boys – Batskhemlang Thongnirit of Nativity HSS
U-18 girls – Ibanrisha Kharwanniang of Jakrem Presbyterian HSS
Best team awards:
Boys champions – Nativity HSS
Boys runners-up – Jakrem Presbyterian HSS
Girls champions – Jakrem Presbyterian HSS
Girls runners-up – Nativity HSS
Overall champions – Nativity HSS
(South West Khasi Hills District Sports Officer photos)