Shillong, May 14: Sawmer will be back in next season's Shillong Premier League after finishing at the top of the Shillong Sports Association's First Division with a 2-0 win against Lawsohtun in the last match of the season at Third Ground, Polo, here today.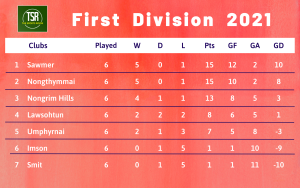 Victory for Sawmer means that Nongrim Hills will have to spend another year in the First Division as they drop to third with their 13 points. Sawmer had to win because a draw would have put them level with Nongrim on points but the latter had head-to-head advantage.
Sawmer and Nongthymmai finish with 15 points but the former have head-to-head advantage. Nongthymmai had already secured promotion after walloping Umphyrnai 4-0 yesterday.
Diego A Khyriem (8') and Gamelial Kharlyngdoh (74') were the scorers today for Sawmer.
Cabinet minister and Mylliem MLA Hamletson Dohling and SSA President and Mawphlang MLA Eugeneson Lyngdoh were present on the occasion. Sawmer received Rs 1 lakh in prize money and Nongthymmai Rs 40,000.
Monday's fixtures:
Women's League – Group B – Lawei vs Nongkrem, 1PM
Women's League – Group A – Onsides Sports vs Rahjingshai, 3:30PM