Shillong, May 20: Mawlai and Laitkor won their last matches of Group A in the Shillong Sports Association's Women's League at Third Ground, Polo, here today.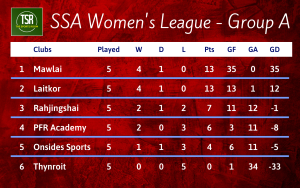 As a result, the two teams have qualified for the semifinals in first and second place respectively from Group A.
Mawlai were 7-0 victors over Rahjingshai while Laitkor took down PFR Academy 3-0.
Mawlai's goals were scored by Ibashisha Khongwet (8', 43'), Rushia Dkhar (11'), Marbarin Nongrum (17', 19'), Sunalinda Iawren (45') and Fedelia Lamare (49').
Laitkor's goals, meanwhile, were scored by Solina Jaba (20') and Tracy Rympei (46', 60').
The final Group B matches will be held tomorrow. Maw-U-Tieng, who have finished their five games, have already booked their place in the semifinals. However, the other spot is very much open – second-placed Lawei and third-placed Lumparing are at the forefront but there still exists hope for Nongkrem and Nongkohlew.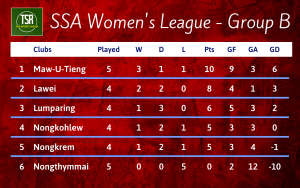 Tomorrow's fixtures:
Women's League – Group B – Nongkohlew vs Lawei, 1PM
Women's League – Group B – Nongkrem vs Lumparing, 3:30PM