Shillong, Aug 9: Rangdajied United FC dealt with Nangkiew Irat SC easily to register a 3-0 win in the 33rd match of the OC Blue Shillong Premier League 2021-22 at Third Ground, Polo, here today.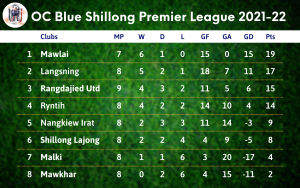 Rangdajied United had defeated Nangkiew Irat 3-1 in the first leg on 12th July.
Raikutshisha Buam (13', 52') and Oresterwell Langshiang (33') scored today. These were the first goals of the season for the pair.
Coming into today's match, the two sides were fourth and fifth in the standings, Rangdajied leading by 3 points (12 to 9). Victory moved RUFC to third, above Ryntih SC (14), though the latter have a match in hand.
Errors were the bane of Nangkiew Irat today, though Rangdajied were guilty of not taking advantage of all of these.
Khangmiki Pale's back pass in the 12th minute as an example of this. The touch was weak, which gave Rangdajied's Donboklang Lyngdoh a chance but he went wide as opposing goalkeeper Bobbyson Nongtdu rushed him.
However, just a minute later, Rangdajied scored after a Nangkiew clearance was headed strongly back towards their citadel by Knerktilang Buam. Raikutshisha took the shot and it brushed past Nongtdu's fingers before going into the back of the net.
At the other end, another careless back pass nearly saw Nangkiew restore parity but Lambor Nongsiej's glance was put out by stand-in Rangdajied captain Atlanson Kharmaw, who sprinted back to keep the ball in play.
Just after half an hour, Rangdajied took a 2-0 lead through Langshiang, whose shot followed two from his team mates that were blocked.
Nangkiew Irat almost went further behind in the first half when Nongtdu hurled the ball straight to a Rangdajied player but the latter somehow did not manage to convert.
After the break, Rangdajied started strongly again, with a powerful Donboklang shot palmed away by Nongtdu. However, another defensive lapse in the 52nd opened the way to Raikutshisha scoring his second of the afternoon, which was also the 80th goal of the OC Blue SPL 2021-22. The No. 7 would later go on to miss what was an excellent chance for a hat-trick, leaving us still waiting for a player to score a treble this season.
Nangkiew Irat had a chance or two of their own but none of these really troubled Rangdajied goalie Banshanlang Sten.
Late in the game, Nongtdu made a complete hash of trying to collect the ball but RUFC failed to find a fourth goal.
Tomorrow, defending champions Shillong Lajong FC (8 points) will take on Ryntih SC (14 points). Ryntih had blanked Lajong 3-0 on 6th July.
Tomorrow's fixture:
Shillong Lajong vs Ryntih, 4PM
(TSR photo)