Shillong, Nov 7: Manipur (Group 1) and Nagaland (Group 2) began their campaigns in the 2nd North East Olympic Games' U-21 men's football competition with victories, beating Assam and Arunachal Pradesh 3-0 and 2-0 respectively at the MFA Turf, Third Ground, Polo, here today.
The other match was won by Meghalaya 6-1 against Sikkim in Group 2.
Manipur (pictured red) and Assam (white) played the early morning match where the 2nd NEOG 2022 Co-Chairman and Commissioner and Secretary to the state government, Vijay Kumar D, and Director of Sports & Youth Affairs, Shivansh Awasthi, were present to greet the players.
Manipur opened their account via Seigoumang Doungel (45'+2) in first half stoppage time but then took the game away in the second session thanks to Haokholen Kipgen (66'P) and Doungel (74′) again. Kipgen scored through a penalty, which he had two chances to take. The first was blocked by the Assam goalkeeper but one of his team mates had moved before the ball was kicked and the penalty had to be retaken and this time Kipgen did not let the keeper near the ball.
Later, Nagaland scored on either side of half time for a 2-0 result in Group 2. The goals were scored by Pursunep (16′) and Thulunso Yimchunger (51′). Arunachal also had their chances and played good football but lacked a little in finishing.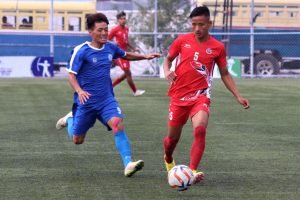 Tomorrow will see the beginning of the U-17 women's competition, with Manipur facing Assam at 11AM in Group 1 followed by Mizoram versus Meghalaya at 3:30PM in Group 2.
(DIPR photos)