Shillong, Nov 8: Two fantastic matches were witnessed as the U-17 women's football at the 2nd North East Olympic Games 2022 got going at the MFA Turf, Third Ground, Polo here today.
Manipur registered a huge 6-0 win over Assam in Group 1, with L Babina (11', 29', 72') producing a hat-trick while Mizoram came from a goal down to beat Meghalaya 4-2 (match pictured) in Group 2 in an enthralling second match.
Meghalaya rejoiced in their first goal after Makrisha Songthiang (13') blazed the ball past the diving goalkeeper but Mizoram were able to turn the tables in the space of two minutes later on.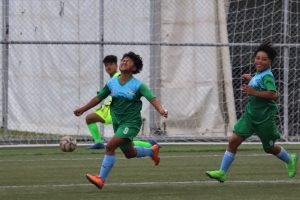 C Lalremruati got over the top of the Meghalaya goalie in the 26th minute with a long-range attempt and Mizoram then claimed the lead in the 28th through Sandra BN after she headed in a corner at the far post.
In the second half, Mizoram caught the hosts on the break twice and made it 4-1 through strikes by Lalremruati (65') again and Lalrinmawi (73').
Meghalaya were working well along the flanks, though, and came up with a goal in the 78th minute scored by Iarap Nongrum off a Sunalinda Iawren cross.
That gave the home team some confidence of a comeback but Mizoram held on to their two-goal lead to the final whistle.
Earlier, Assam did not play badly at all but with seven India U-17 players in the Manipur squad, it was always going to be an uphill battle for them.
Besides Babina's treble, there were also goals for L Shelia Devi (12') and S Lynda Kom (40') along with an own goal by an Assam player in the 55th minute.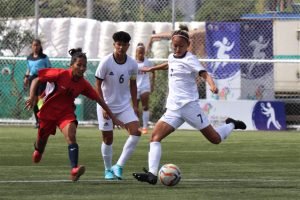 Tomorrow will see the second round of U-21 men's matches, starting with Arunachal Pradesh versus Meghalaya at 9AM in Group 2. Mizoram will then get their first outing against Assam in Group 1 at 12:30PM followed by Sikkim versus Nagaland in Group 2 at 4:30PM.
(DIPR photos)