Shillong, Apr 10: The third edition of the Meghalaya State League will begin on 5th May, the Meghalaya Football Association announced at a press conference here today.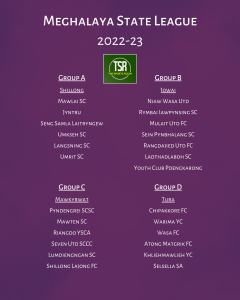 MSL 3 has been pushed back several times since the latter part of last year due to various reasons. The draw for this season had been held in January with 25 teams split between four groups.
Shillong Lajong FC are the defending champions and will be back to defend their crown, though they had to qualify for this edition through the playoffs.
Four different towns will host the competition – Shillong, Tura, Jowai and Mawkyrwat. This will be the first time that Shillong and Tura have been included as venues.
The participating clubs have been divided up into four groups of six, with Group B containing an extra team.
They have been drawn from all over the state with the champions from the local leagues being granted direct entry.
Second-placed teams from the more prominent leagues also qualified directly, while other teams had to go through a round of qualifying matches, such as Lajong, who only finished fourth in last year's SPL.
As a reminder, Niaw Wasa won the first MSL in 2017-18, beating Tynrongmawsaw on penalties in the final on their home turf in Jowai. The second edition of the event saw Lajong defeat Rangdajied United FC in Khliehriat. That final was also decided on penalties.
(File photo)