Shillong, Jun 3: Defending champions Shillong Lajong qualified for the semifinal round of the Meghalaya State League 2023 after a goalless draw with Seven United in Group C at the MDSA Ground in Mawkyrwat today.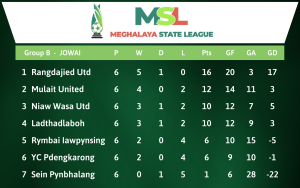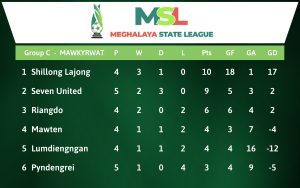 There was a pre-arranged deferment in Group D, with the Chipakkore versus Wa'sa FC match rescheduled for Monday but in the other games today, Rangdajied United held off a determined Youth Club Pdengkarong 3-2 in Group B while Langsning eclipsed Jyntru 4-0 in Group A.
A draw brings to an end Lajong's three-game winning streak but avoiding defeat was all they had to do to secure a berth in the knockouts. The only sore point for them will be Babysunday Marngar's red card, which came right at the end of the match.
SLFC still have a game to go but this was Seven United's last outing of MSL 2023 and they finished unbeaten with two wins and three draws. As it stands, Lajong have 10 points to Seven United's 9.
At the Kiang Nangbah Stadium in Jowai, Rangdajied, who had already qualified for the semifinals, fielded a few more inexperienced players today but they still started on the right note with an effortless left-footer strike by stand-in captain Balamlynti Khongjee (3′). However, the lead lasted only around ten minutes as Pdengkarong's Kindness Mukhim (14′) scored from close range after the goalkeeper fumbled the ball that came in from a cross.
In the second half, RUFC began to stamp their mark on the contest by scoring twice; Oresterwell Langshiang (65′) ran past three opposition players to slot the ball low to the keeper's left before Khongjee (83′) fired another left-footer across the surface of the pitch and into the bottom corner of the net.
However, Pdengkarong refused to give in and Marshial Nongrum scored at the other end off a rebound following a coming together of a team mate and the Rangdajied goalkeeper.
Over in Shillong, Kampher Pale (3′) and Wilbert Marbaniang (18′) set up Langsning with two early goals, both via headers. Heavy rain at the end of the first half made conditions difficult and Langsning were then denied a third on the hour after a volley from a free-kick cannoned into the upright.
Marbaniang, however, scored another via a penalty in the 73rd minute and, a little while later, Roikhihbha Nongtdu (78′), from the edge of the box, nailed a shot on goal with the Jyntru goalkeeper getting a hand to the ball but he was not able to palm it away. The match ended 4-0 in favour of Langsning; this was the only game of their campaign that Jyntru did not score in.
The fixture was a dead rubber as Mawlai had already secured qualification to the semifinals but it did enable Langsning to end with their heads held high.
Monday's fixtures:
Group A, Shillong – Group stage concluded
Group B, Jowai – Group stage concluded
Group C, Mawkyrwat – Mawten vs Lumdiengngan, 3PM
Group D, Tura – Chipakkore vs Wa'sa FC, 3PM
(Meghalaya Football Association photo. File photo of Shillong Lajong's Shano Tariang in action)