Shillong, Jul 2: Assam Rifles Public School, Iewrynghep Secondary School and Umphyrnai Presbyterian Secondary School won the U-17 boys', U-17 girls' and U-14 boys' finals of the East Khasi Hills district-level Subroto Cup at Third Ground, Polo, here yesterday.
H Elias Memorial Higher Secondary School finished as runners-up in U-17 boys' and girls' finals, while ARPS lost the final of the U-14 boys' title match.
ARPS' excellent performance this year comes after they began a partnership with Bhaichung Bhutia Football Schools.
The first match of the day witnessed the two U-17 girls' teams go head to head, with Iewrynghep edging H Elias 2-1. The champions scored the first two goals, via Ibalari Nongrum (20′) and Iaraplang Nongrum (43′) before H Elias pulled a goal back through Ridalin Suting (50′).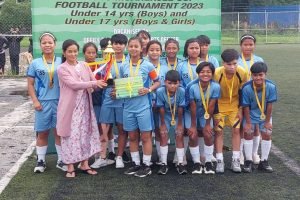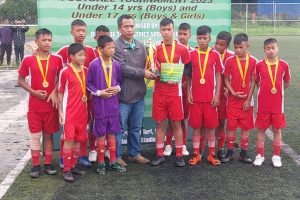 The U-14 boys then took to the field and here Umphyrnai PSS won 4-2 in a tiebreaker after regulation time ended 2-2.
Another shootout was required in the U-17 boys' final, this time with ARPS coming out on top, with H Elias having to settle for another second place finish.
The entertaining fixture was goalless during regulation time but ARPS came through 4-1 in the tiebreaker.
Meanwhile, the finals of the district-level Subroto Cup for West Jaintia Hills and Ri-Bhoi will take place on Monday.
In WJH, the U-17 girls' final will be at 10AM between Kiang Nangbah HSS and North Liberty HSS. Then will follow the U-14 boys' final at 11AM between Lumpyrtuh SS and HK Singh Memorial SS and then the U-17 boys' final at 1PM between Government Boys HSS and North Liberty HSS.
In Ri-Bhoi, the U-17 girls' final will be at 10AM between Myngken HSS and Saiden SS. This will be followed by the U-14 boys' final at 12PM between Umsning Presbyterian SS and Myngken HSS. The concluding match will be the U-17 boys' final at 2PM between Myngken HSS and Nongjri SS.
(Photos contributed. The featured photo is of Assam Rifles Public School)