Shillong, Jan 25: The district administration of South West Khasi Hills in collaboration with the District Sports Officer held the National Voters Day Run today.
There were a total of 227 runners in three categories – U-12, 13-17 and 18-plus for males and females.
Winners of the U-12 categories won Rs 3,000 in prize money, with the winners in the other two divisions being awarded Rs 5,000 each. Runners up to sixth position also received cash prizes, while there were also prizes for the oldest and the youngest runners.
18-plus male:
1st – Shiningstar Marwein 31:07
2nd – Iwelljohn Ramsiej 31:26
3rd – Jomsingstar Ramsiej 32:20
18-plus female:
1st – Marwqueenless Ramsiej 40:12
2nd – Aidaris Lyngkhoi 45:32
3rd – Maidalari Wanniang 45:52
13-17 male:
1st – Neverson Jyrwa 33:50
2nd – Johnstar Sohphoh 34:03
3rd – Nangkyrshan K Wanniang 34:50
13-17 female:
1st – Selbiana K Wanniang 44:03
2nd – Elfidary Wartde 47:08
3rd – Ikyntiewshisha Ramsiej 47:30
U-12 male:
1st – Bankitbok Ramsiej 17:38
2nd – Tislang Wahlang 17:50
3rd – Damangkynsai Wartde 17:55
U-12 female:
1st – Larijanai Wartde 19:38
2nd – Rikynti Kharjahrin 20:51
3rd – Kyntimery Ramsiej 21:08
Other awards:
Oldest finisher (male only) – Darius Lyngdoh (60 years)
Youngest finisher (male) – Davidlewis Kharwanniang (4)
Youngest finisher (female) – Idapynkmen Marpna (6)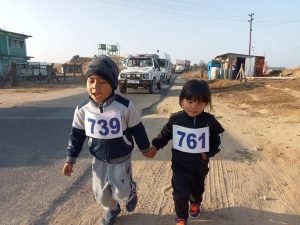 (South West Khasi Hills District Sports Officer photos)