Shillong, Sep 1: The Meghalaya Football Association has named its three squads that will take part in the Sub-Junior Girls, Sub-Junior Boys and Junior Boys National Football Championships.
The sub-junior girls will play their games in Amritsar, the sub-junior boys in Malda (West Bengal) and junior boys in Bhubaneshwar. Meghalaya are the defending champions in the sub-junior boys tournament.
Send-offs were held in recent days here for each of the three teams.
Meghalaya have been drawn in Group B of the Junior Boys National Football Championship (Tier 1) for the BC Roy Trophy 2023-24 where they will face Kerala, West Bengal and Jammu & Kashmir.
Meanwhile, the state has also been drawn in Group C of the Sub-Junior Girls NFC (Tier 1) 2023-24 with Gujarat, Assam and Chhattisgarh and in Group A of the Sub-Junior Boys NFC (Tier 1) 2023-24 with Karnataka, Sports Authority of India and Uttar Pradesh.
The BC Roy Trophy will be held from 5th to 15th September. It will see 16 teams equally divided into four groups, with the group winners progressing to the semifinals.
The 2023-24 edition will mark the return of the BC Roy Trophy for the first time since the pre-Covid-19 tournament in 2019-20, which saw Mizoram clinch their second successive title after a 5-4 penalty shoot-out victory over Punjab in Shillong. (Meghalaya were semifinalists in that edition).
Meghalaya will first play West Bengal (6th September), then Jammu & Kashmir (8th September) and Kerala (10th September).
The Sub-Junior Girls NFC will also feature 16 teams divided into four groups and the four group winners will move to the semifinals. The tournament will be played from 3rd to 13th September. Meghalaya will play Gujarat (3rd September), Assam (5th September) and Chhattisgarh (7th September).
The Sub-Junior Boys NFC will be held on the same dates and Meghalaya will play SAI (3rd September), Uttar Pradesh (5th September) and Karnataka (7th September). Again, this is the first time this tournament is being held since the Covid-19 pandemic. Meghalaya are the defending champions after having defeated Arunachal Pradesh 3-0 in 2019's final.
All dates are according to the All India Football Federation website and are subject to change. The Meghalaya squad lists below were provided by the MFA.
U-14 girls' squad (officials not intimated by MFA): Arivika Basaiawmoit, Banyllashisha Nongkhlaw, Bandabetshisha Nongrum, Bandakheinkor Jyrwa, Bonifilia Shullai, Daia Sngewhun Kharbudnah, Dakmenshisha Jyrwa, Daphibanker Thongni, Daficare Lyngkhoi, Dawansaphi Snaitang, Gracel Phila Pynhun R Shangpliang, Haphidahun Nongrum, Ilabynta J Lyngdoh, Judith Kharmuti, Julita Langrin, Larihun Songthiang, Larika Kharkylliang, Mafi Naki Manbha, Melbornmerry Snaitang, Parimika Khongngain, Saphinia Nongkhlaw, Shirley Nongkhlaw Marbaniang, Saphapaya Lyngdoh, Wanrihun Kharnaior and Wanrisha Khoksi
U-14 boys' squad: Akimrag Momin, Baniar Kharsohnoh, Damebantei Kharkongor, Daplangki Kharmujai, Hameshwa Siangshai, Iaisanlang Dohling, Krebinson Marwein, Mewanpyntngen Lyngkhoi, Nangteiphyrnai Kharumnuid, Prosperwell Ryntong, Roderick Khongjee, Shanbok Basawiawmoit, Yeomanlyson Shadap, Deiwakordormi Dkhar, Ricky Mawlong, Dasuk Banphrang Diengdoh, Teibor Kharkylliang, Wanmiijuh Pajuh, Medonbanshan Kurkalang, Robindor Kyrsian, Aibanjop Shadap (coach), Dame Kyndiah (assistant coach), Cleverson Syiemlieh (manager)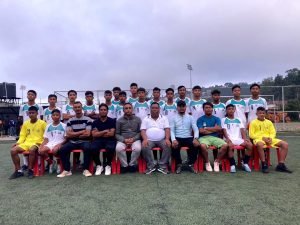 U-16 boys' squad: Vincent Nirik M Sangma, Donkam M Marak, Kangkam G Momin, Bipush G Marak, Achang Dildora A Sangma, Sholinstar Syngkli, Erickson Pamsad, Medondor Kharbuki, Pynshailang L Nonglait, Lawan Lambha Pathaw, Pynshai Khongthohrem, Wilbord Thongni, Saindur Rynjah, Samewan Khonglah, Bestius Nongbsap, Alicestar Thangkhiew, Andreau Paul Lyngdoh, Jonathan Mawa, Santishailang Ryntathiang, Balajied Syiemlieh, Mebanlamlynti Masharing, Maikhelson Kharkylliang, Banlamkupar Rynjah, Menangpyndap Khongjee, Bamelasiewdor Nongsiej, Jeffrey Warlarpih (coach), Pynkhrehlang Nongkseh (assistant coach), Beneslaus Khyriem (manager)
(Meghalaya Football Association photos)