Shillong, Jan 18: Of special note in this edition of the I-League is that Minerva Punjab, who were only able to win two matches all last season, are currently leading the table thanks to seven victories out of nine games, while giants Mohun Bagan are having a lacklustre year, at least by their lofty standards.
What the TSR stats nerds also find noteworthy is that the first half of I-League 2017-18 has produced the lowest average goals per game of any season going back to 2009-10 (the last year we have figures for) – just 2.16.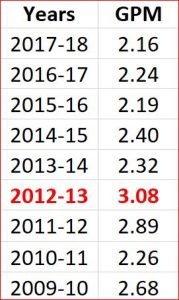 The first half of the season ended on 16th January. It was a double-header, with the Aizawl-East Bengal game (result: 0-0) the last of the first half.
As we can see from the table, 2017-18 has produced the fewest goals per match (GPM) in the first half of a season, going back to 2009-10. At 2.19 2015-16 was pretty close, while the high-water mark fell in 2012-13 when more than three goals were scored per game in the first half of the year.
That doesn't mean that 2012-13 was the most exciting season – our statisticians make no claim to that. In fact they're completely incapable of making such a judgement. They're just pointing to (what they think are) interesting statistics.
There certainly have been plenty of low-scoring encounters this year. At first several matches saw at least one of the sides involved rack up at least three goals, but this went into sudden decline.
On 26th December Indian Arrows defeated Shillong Lajong 3-0 in New Delhi. It then took another 19 matches before a club scored three goals in a game – Churchill Brothers did it in an exciting fixture against Gokulam Kerala on Monday, winning 3-2 away.