Shillong, Mar 15: Defending champions Assam Rifles Laitkor and 2016 winners Smit will vie for the title of the Assam Rifles Invitational Football Cup in the final on Saturday after both teams got through their semifinal matches in contrasting ways.
Assam Rifles had some dogged competition in the form of Mawpat in the afternoon fixture at the Assam Regimental Centre Football Ground today, but won 2-0 thanks to a goal on either side of half time.
The first goal came in the 45th minute with LR Chana making a run into the box. Though he was shielded by two Mawpat defenders, he was able to pull off a shot that went into the far corner of the net.
Mawpat's determination of making a comeback suffered an early blow in the second half when L Santa Singh struck a stunner from the edge of the box in just the 47th minute.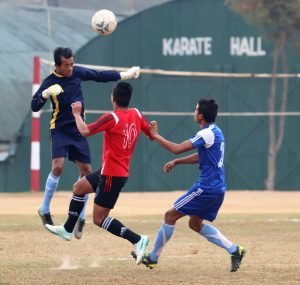 Mawpat tried valiantly to get back into the contest, but they could make no headway against the jawans' defence and as the match wore on they appeared to tire somewhat.
Meanwhile, the first semifinal was brought to an abrupt halt after Mawngap was disqualified, meaning that Smit progressed to the title match.
During the game a Mawngap player came to disagree with the referee and the confrontation turned physical, resulting in the team's disqualification.
Although this was not the best way for Smit to reach the final, the team will surely seize upon the opportunity as they look for their second Assam Rifles Invitational title. After winning the trophy in 2016, they were beaten in the semifinal stage last year and once again they have reached the finale, with only the defending champions to get past.
The final will be held on Saturday at 3PM at the JN Stadium, Polo. Entry is free and all are welcome.
(Photos contributed by Assam Rifles)