Shillong, Mar 20: Nongmensong CC and Sumer won the Shillong Cricket League Second and Third Divisions respectively in the finals played here today.
Nongmensong beat Khalsa Warriors CC by eight wickets to take the Second Division title, while Sumer (not the same team that won the Super Division last month) beat Slog Warriors by 12 runs in the Third Division.
Nongmensong won the toss and put Khalsa Warriors in to bat first, but the latter were demolished for just 57 in 14.4 overs with no batsman even reaching double figures. Man-of-the-match Evert Nelson Mawlong took 5-15 in 5 overs.
In reply Manish Das struck 33 as Nongmensong cruised to 62/2 in 11.5 overs to win handsomely. Rahul Singh, who claimed one wicket today, was named man-of-the-tournament to claiming seven wickets and scoring 74 runs.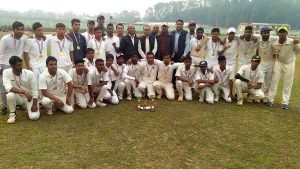 Meanwhile, in the Third Division final, Sumer won the toss and opted to bat first. They were, however, dismissed six runs shy of 100, with man-of-the-match Pranjal Medhi's 37 helping them to reach 94 all out in 19.4 overs. Both Subhakar Turaha and Rajesh Chettri took three wickets each.
Turaha returned with the bat to make 28, but Slog Warriors were bundled out for 82 in 18.4 overs. Kashi Basfor claimed 3-18 for Sumer. Turaha, however, was named man-of-the-tournament for scoring 101 runs and taking nine wickets.
(Photos contributed by the Shillong Cricket Association)