Shillong, Mar 25: Swimming as a year-round activity in Shillong has become a reality with the launch of True North Leisure Centre, which boasts of the city's (as well as the state's) first controlled-temperature indoor swimming pool.
The leisure centre, located near the heart of Shillong in Mission Compound, was formally inaugurated on Saturday.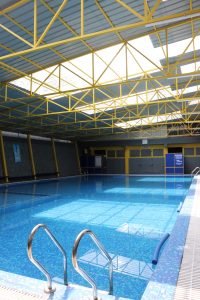 Swimming is a popular pastime, but, in Shillong at least, has always been limited to the short summer months. The launch of True North now opens up the opportunity for enthusiasts to enjoy one of humanity's oldest leisure activities throughout the year. It also provides the chance for athletes and the wider population to recuperate from injury.
The pool, which incorporates a kids' pool as well, is of medium depth, with the deepest end at five and a half feet. While day-users are welcome, members also have access to a purpose-built jacuzzi and sauna for relaxation and recuperation. A cafeteria, run for the benefit of Providence School, is also located on the premises. The leisure centre is open from 6:30AM to 10PM.
The facility is the initiative of three friends – Robinson Jyrwa, Lindsay Diengdoh and Gary Jarman Lamare, the latter who is famous for being the first person from Meghalaya to scale Mt Everest – who are also swimming enthusiasts and who wanted to take swimming in the city to the next level.
"We had the vision for this project nine years ago, but back then the technology to heat a pool was not made domestically and we would have had to import it from abroad at great cost," Jyrwa said on launch day. "It was only two years ago that we found a manufacturer in Chennai who made the equipment," he added.
Although the swimming pool has not been designed for competitive swimming events, there is the potential for athletes to use it in other ways.
"Swimming is an injury-free sport," Diengdoh explained, as the body's buoyancy keeps stress off the joints, which opens up the possibility of those having knee problems, for example, staying fit through swimming rather than other activities.
"As kids we didn't have anyone to teach us swimming. We just went to Crinoline Falls and picked it up over time. Most swimmers in Shillong are self-taught but it's very important that children receive proper instruction and we're looking to partner with local schools, who are interested in making swimming part of their curriculum, for this purpose," Jyrwa said.
The pool is certainly going to be popular with children, if launch day was anything to go by. After patiently sitting through the inauguration, a dozen of them wasted no time in getting into the water and having a ball as soon as the formalities were over.
(Photos contributed by True North Leisure Centre)