Shillong, Mar 24: The trophy of the Indian Women's League (IWL) was unveiled here today at a function to inaugurate the second edition of the tournament.
The members of the seven participating teams – defending champions Eastern Sporting Union (ESU), Indira Gandhi Academy for Sports and Education (IGASE), Rising Student Club, Gokulam Kerala, KRYPHSA, Sethu and India Rush Soccer Club – along with officials and dignitaries were present at the event.
The tournament features former, current and the future stars of the Indian national women's football team, like Oinam Bembem Devi, who is the ESU coach, and Bala Devi, who is captain of KRYPHSA and the national team.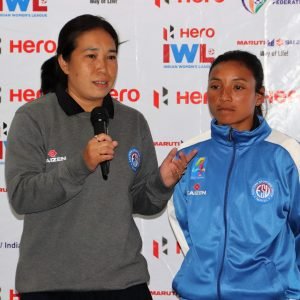 "Being last year's champions means that we have focused on working hard so that we can be the champions again," Bembem, who hung up her football boots in Shillong in 2016 after she led India to gold in the South Asian Games after a 20-year career, said.
The tournament will be played in a round-robin format starting on Monday with ESU taking on IGASE, followed by Rising Student Club versus Gokulam Kerala.
The top four teams will progress to the semifinals, with the title match on April 14.
Speaking as the chief guest, Sports & Youth Affairs Minister Banteidor Lyngdoh welcomed the "wonderful initiative" whose aim is to promote women's football and athleticism around the country.
"We have to celebrate and develop football in the state and take it to the next level. Meghalaya will gain from this exposure, which will help for the National Games 2022 (which the state will host). The government will leave no stone unturned in giving assistance to sports," the minister said.
Earlier, Meghalaya Football Association (MFA) Treasurer Wanshanbor Kharkrang said it was a "privilege and proud day for the state to be gifted this tournament".
"The All India Football Federation (AIFF) gave this tournament to Meghalaya because it saw the success of women's football at the South Asian Games. For all you budding footballers – you're in the right place," Kharkrang said.
Meanwhile, MFA President, AIFF Vice-President and Shillong Lajong FC Managing Director Larsing Ming Sawyan said that he's a little "sad" that no team from Meghalaya is taking part in the IWL.
"India is moving from a one-sport nation to a two-sport one and women's football has huge scope for growth," Sawyan said. "The Indian women's team is ranked 59 in the world and has a stronger chance of qualifying for a World Cup than the men's."
This is the second edition of the IWL, with the first having been held last year in New Delhi.
Sawyan admitted that a women's league has taken a while in coming, but added, "We've taken the first step and I hope to see India among the top five Asian countries in the near future."
(TSR photos)