Shillong, Apr 4: Eastern Sporting Union (ESU) and KRYPHSA played out a 1-1 draw in an IWL Manipur derby at the JN Stadium here today.
Player-of-the-match Bala Devi scored the opener for KRYPHSA in the 14th minute, but reigning champions ESU bagged the equaliser (45+1) through Roja Devi. Roja scored her goal in the first minute of stoppage time when she had to negotiate a high bounce before placing the ball in the far corner of the net to beat the leaping goalkeeper.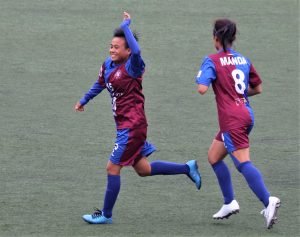 The IWL changed around today's fixtures with the ESU-KRYPHSA match advanced to 2:30PM, while India Rush and Sethu, which were scheduled to meet at 11AM, had their game postponed to the evening. Sethu eventually came through as 3-2 winners.
In the early morning match Rising Students Club bounced back from Monday's defeat to Sethu FC by hammering Indira Gandhi Academy for Sports & Education (IGASE) 6-1. This was IGASE's second consecutive game in which they lost 6-1, having gone down by the same scoreline to Gokulam Kerala last week.
Pyari Xaxa (9, 13′), Anju Tamang (27′, 83′) and Sanju (50′, 87′) scored a brace each for Rising Students, while Amsavalli Narayanan scored the lone goal for IGASE in the 54th minute.
Meanwhile, Eastern Sporting were denied victory for the first time in five matches but they remain at the top of the points table.
In the second half both clubs were keen on finding a winning goal, but were denied, though the action was entertaining enough.
Kamala Devi was an ever present danger to KRYPHSA and came close on the hour mark when she was unmarked and headed in a cross only to see an opposition defender sail in and clear the ball away.
KRYPHSA then had a golden chance to score again after they were awarded a penalty in the 75th minute for a push from behind on one of their players, but Ashalata Devi was slightly off target with the spot kick.
(TSR photos. Eastern Sporting Union in blue/purple, KRYPHSA in green)