Shillong, Apr 20: Langsning FC will look to continue their unbeaten run in Second Division League away matches as they take on Chennaiyin FC reserves tomorrow in their Group C fixture in Chennai at 4PM.
Two of Langsning's six matches played have been away and the Shillong team first defeated Jamshedpur FC reserves 3-1 on 4th April before drawing 0-0 with Mohammedan Sporting on 9th April.
Langsning again split points with Mohammedan in their Shillong match four days later and will now aim to bag a full three points against the reserves of ISL side Chennaiyin.
Saturday's hosts have not had the greatest run in Group C, having lost all of their six games thus far, including three on their home turf.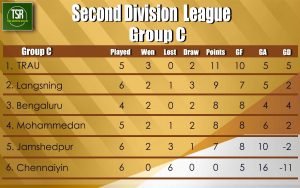 When the two sides met on 14th March in Shillong Langsning came out as 2-1 victors, with goals scored by Lancine Toure and Kitboklang Pale. Since then the U-22 player Stephanson Pale has also shown some fantastic goal-scoring nous, having produced three in the last three outings. But, though second-placed Langsning might look like favourites on paper, the team are not taking their opponents lightly.
"We realise that Chennaiyin have lost all their matches, but they are playing at home and know the conditions well and we cannot give anything less than our very best," Langsning coach Hering Shangpliang said ahead of the encounter.
Langsning have also had to acclimatise to the change in weather conditions, with temperatures likely to reach 35 degrees Celsius when the game kicks off, but the boys are excited and looking forward to the contest.
(Photo contributed by Langsning FC)