Shillong, Aug 6: The Shillong Sports Association has released the fixtures for the first leg of the Shillong Premier League 2019.
Newcomers to the league Ryntih and Laban will face each other in the opening match on 20th August. All of the first 21 matches will take place at the JN Stadium with kick-off at 3PM.
In an important change announced last month, the SPL will follow a pure league format, ie there will be no playoffs or final, rather the team that finishes at the top of the points table at the end of all 42 matches will be crowned champions. The same format is being followed in this season's ongoing First Division.
The seven participating clubs – defending champions Langsning, Shillong Lajong, Rangdajied United, Nangkiew Irat, Laban, Nongrim Hills and Ryntih – should register 25 players four days before the start of the first leg and can register another five players two days before the start of the second leg.
Each of the seven teams can register a maximum of 30 players, four of whom should be U-18. One U-18 player should also be in the playing XI.
Teams can also register three foreigners of which two can be on the field at any time.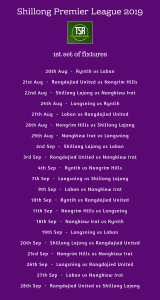 (TSR file photo)