Shillong, May 17: There seems to be no end of regrettable events going on around the U-18 Youth League in Shillong, with the latest allegedly seeing members of the Tata Football Academy (TFA) team hounded off the Shillong Golf Course after they went there for a walk.
In a Facebook post today a member of the team described what apparently happened, saying that the team were "assaulted, abused and politically threatened". As the Facebook post was not made public we have refrained from publishing the poster's name. We have also cropped out the license plate number of the person who the poster claims was the "self-proclaimed director of the golf course".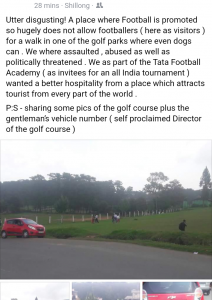 TSR reached out to the golf club for their side of the story and one official said that it is the policy of the club not to allow footballers on the greens because of the possibility of damage to the grass.
As the TFA players were in their football gear they were approached by an official who informed them of this.
Far from abusing or assaulting or threatening the players, the golf club official alleged it was the other way around, with the TFA players making a rude hand gesture at the official as they headed away from the golf course.
This is the third unfortunate incident in the ongoing U-18 Youth League, the final round of which began yesterday, with the playoffs and one round of qualifiers also having been held in Shillong beginning last month. First came a robbery of valuables belonging to the SAG Football Academy players and officials followed by an appalling case of racial abuse against one of the Meghalaya referees.
The Shillong Golf Course prides itself as being one of the oldest and largest golf courses in Asia if not the world. The 18-hole course is largely unfenced, but is privately owned land. 
This article has been edited following its original publication after being able to speak to a senior member of the Shillong Golf Club.