Shillong Jun 1: Eight gold medals on the final day gave East Khasi Hills (EKH) the overall champions' trophy at the State Level Chief Minister's Inter-School Athletic Meet, relegating Ri-Bhoi, who had been leading the medals table on the previous two days, to second place.
In the end EKH's gold medal in the girls' U-16 4x100m relay, the penultimate event, proved vital as that victory made sure that there was no way for Ri-Bhoi to get back, even though the latter went on to win the boys' U-16 4x100m relay.
The EKH's relay team – comprising Balaaihun M Ryntathiang, Vanya Rynjah, Gabriella Dondor Kharubon and Careen War – set a new meet record in their run to the finish line, winning the race in 54.95 seconds.
North Garo Hills (NGH) slipped from third to sixth in the standings after they were unable to add to their gold tally of five from the day before. Instead West Jaintia Hills (WJH) finished third, while West Khasi Hills moved leapfrogged South West Khasi Hills from sixth to fourth. East Garo Hills finished in ninth place by winning their first gold medal today, thanks to Kraisment R Sangma in the U-16 boys' long jump. All 11 Meghalaya districts thus picked up at least one medal at the meet.
Besides the overall championship, EKH also won the girls' trophy with 11 gold, seven silver and three bronze, with Ri-Bhoi coming second with five gold, silver and bronze medals each. The boys' trophy was claimed by Ri-Bhoi (10G, 11S, 7B) ahead of WJH (5G, 4S, 7B).
As is usually the case Ri-Bhoi and the Khasi-Jaintia Hills dominated the competition, winning 51 of the 58 available gold medals. This one-sidedness was reflected in both the girls' and boys' divisions – Garo Hills won just two out of 29 girls' gold medals and five out of 29 boys' gold medals. However, with three gold, one silver and three bronze NGH did manage to come fourth in the boys' division.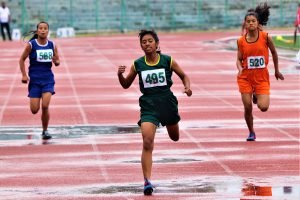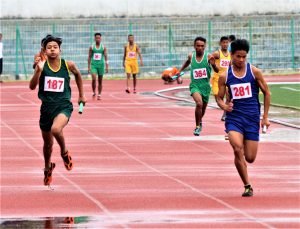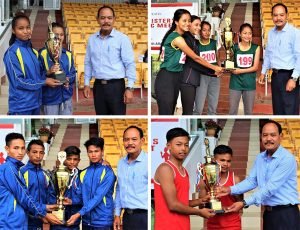 List of new meet records:
Pilo Ronghang (Ri-Bhoi) – U-16 boys – 100m – 11.24 sec
Pilo Ronghang (Ri-Bhoi) – U-16 boys – 400m – 52.97 sec
Dabit Dkhar (West Jaintia Hills) – U-16 boys – 2000m – 6 mins 4.36 sec
Kraisment R Sangma (East Garo Hills) – U-16 boys – long jump – 5.82m
Ladin Penang (North Garo Hills) – U-16 boys – high jump – 1.71m
Balaaihun M Ryntathiang (East Khasi Hills) – U-16 girls – 200m – 28.78 sec
Balaaihun M Ryntathiang, Vanya Rynjah, Gabriella Dondor Kharubon, Careen War (East Khasi Hills) – U-16 girls – 4x100m – 54.95 sec
Tengkimbert R Marak (South Garo Hills) – U-14 boys – 100m – 11.94 sec
Twinstar lyngdoh (Ri-Bhoi) – U-14 boys – shot put – 11.63m
Aelyne F Khriam (East Khasi Hills) – U-14 girls – 100m – 13.42 sec
Aelyne F Khriam (East Khasi Hills) – U-14 girls – long jump – 4.00m
Rinalis Ingtih (Ri-Bhoi) – U-14 girls – high jump – 1.38m
Melibad Kro (Ri-Bhoi) – U-14 girls – shot put – 7.54m
(TSR photos)