Shillong, Jun 6: Gift Raikhan, the Manipur coach who led NEROCA FC to second place in their debut season of top flight football in I-League 2017-18, has been signed as coach of 2016-17 champions Aizawl FC, it was announced today.
In an Instagram post, Aizawl welcomed Raikhan, a former left-back and ex-assistant coach of the dissolved Pune FC, saying that the club are "delighted that we can grab a hold of a coach with great experience".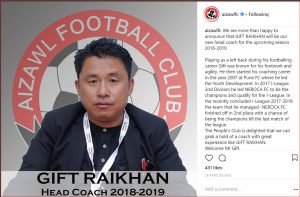 Raikhan will replace Santosh Kashyap, who was a mid-season replacement for Paulo Meneses. Aizawl ended the season in fifth place, eight points behind NEROCA and 11 adrift of eventual winners Minerva Punjab FC.
NEROCA's second-place finish was the best of any North East club on their debut in the I-League and they later made it to the quarterfinal stage of the inaugural Super Cup, but couldn't make further progress.
Raikhan returned to his Manipur roots when Pune FC folded in 2015 and guided NEROCA through the Second Division League and into the I-League. Last month it was announced by NEROCA that he would not be staying with the Imphal-based club, though Raikhan did not give a hint of where his future lay.
"It has been an incredible journey and I dedicate our finishing second to the lovely people of Manipur, my club and our players…Some of them will go on to play for other clubs but what they won't forget is the effort they put in this season," the departing NEROCA coach said in an earlier interview in March.
Aizawl continued to be busy after the end of the I-League season as they took part in the Super Cup (another quarterfinal exit) and AFC Cup, where they bowed out in the group stage in last place, with just one win out of six games in Group E.
The club have announced several signings of, mainly, young players since the end of the I-League as well as a key contract extension of Liberia midfielder and club captain Alfred Jaryan, who has been with the team since the 2015-16 season.
(TSR file photo)