Shillong, Jun 24: Along with the rest of the world, Olympic Day was celebrated in Meghalaya with a day-long programme here yesterday, highlighting the pillars of 'Move, Learn and Discover' amongst the youth and general populace.
Organised by the Meghalaya State Olympic Association (MSOA) in collaboration with the Directorate of Sports & Youth Affairs, the programme, which mobilised citizens to get  active, learn about Olympic values and discover new sports included the Shillong 10K Run (Move), a self-defence demonstration by the local karate, wushu and taekwondo associations (Learn) and a fencing and sport climbing display (Discover).
Sports & Youth Affairs Minister Banteidor Lyngdoh, who was the chief guest in the morning, flagged off the Shillong 10K Run and the Run4Fun at 7AM. Around 200 athletes including youngsters and senior citizens participated in the 10km run as well as the 4km Run4Fun held in the city. The minister encouraged the participants to always be active in sports and wished them the best in the event. He also ran in a section of the Run4Fun along with the members of the MSOA, including Working President John Kharshiing and Sports & Youth Affairs Director Matsiewdor War Nongbri.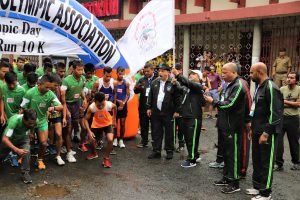 In the men's category the winner of the 10km run was Mudang Omo of Assam Rifles with a time of 34 minutes, 44.12 seconds followed by Synsharlang Wahlang in 34 minutes, 55 seconds with Maikhel Ramsiej clocking in at 35 minutes, 19.22 seconds to take third.
Pynhun Shulet of Jowai won the 10km women's run in 44 minutes, 15 seconds followed by Darishisha Iangjuh in 44 minutes, 25 seconds and Dateibankynmaw Marwein clocking in at 46 minutes, 40 seconds.
Prize money of Rs 10,000, Rs 7,000 and Rs 5,000 was awarded to the first-, second- and third-placed runners respectively.
Samson Killing was the oldest runner in the Shillong 10K Run at 71 years of age.
After the 10km race, a demonstration on self-defence, fencing and sport climbing at the State Central Library premises was attended by the chief guest, Meghalaya Chief Information Commissioner PBO Warjri.
In his address Warjri, exhorted the students from various schools in the capital and athletes to imbibe the Olympic values of respect and honesty. Referring to the self-defence for girls demonstration, he stressed on the need to fight the growing crime against women by all sections of society.
(Photos contributed by the Meghalaya State Olympic Association. Mudang Omo and Pynhun Shulet are both in green shirts in the featured photo)