Shillong, Jul 8: Some very close contests were witnessed yesterday in the fourth full match day of the Meghalaya Baby League (MBL) 2018 as the competition between the children has definitely stepped a gear.
Twenty-five matches were held at three venues – Third Ground, the JN Stadium and the Futsal Ground – at the JN Sports Complex between 10 different teams.
The MBL 2018 is the joint initiative of Tata Trusts, the Meghalaya Football Association and All India Football Federation.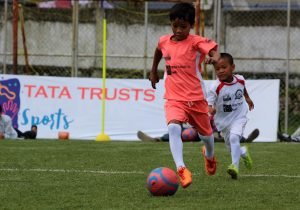 The closest matches were played out between Mawlatbah SC Hawks and Little Star Clouded Leopards. The latter won the opening 4-5-year group convincingly 6-0, but could not find a way past their opponents in the other games. The Hawks won two of these, 2-0 in the 6-7-year group and 6-4 in the 10-11-year group, while the other two ended in goalless draws.
It was also pretty close between Sunnydale School Doves and Nongtrai Cheetahs, with the latter winning three games, losing one and drawing one.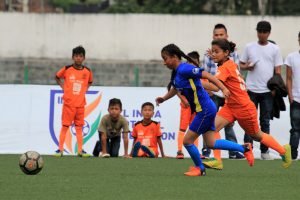 Meanwhile, Nongthymmai GC Scorpions started with victory over Wahlakhiat Bulls in the 4-5-year group but we later saw the Bulls storm back to take the next four games.
There were also a couple of teams that won all their matches on the day – ENE Falcons (who were up against Unified Gorkha Gators) and Touchline NE Cubs (who played against the JNS Jaguars). The latter scored an astonishing 51 goals on the day across the five age-group categories.
The Jaguars and Gators will definitely work hard to get their journey in MBL 2018 back on track and there is plenty of time enough for them do so.
(Photos contributed by the Meghalaya Football Association. The featured image is of Nongthymmai GC Scorpions (blue) vs Wahlakhiat Bulls (green))