Shillong, Jul 13: Shillong Lajong won their last match of the U-18 Shillong Premier League over Nangkiew Irat 3-1 here today.
The match was a touch inconsequential as neither side are able to progress to the final.
Nevertheless Lajong got off to a winning start with Joshua Rinlianangente's fifth minute goal. That was SLFC's earliest goal of the season and proved to be the only breakthrough of the first half.
Apborlang Kurbah, who is the lead scorer of the tournament thus far, added a couple of goals to his already impressive tally in the second half, first scoring early after the restart (47th minute) and then two-thirds of the way through (59th). Kurbah now has seven goals, which equals last year's highest (by Stephanson Pale), though the 2017 edition of the tournament followed a shorter format.
Nangkiew then pulled a goal back in the 67th minute through their top scorer, Hiamdorlang Mairom, for his sixth goal of the competition.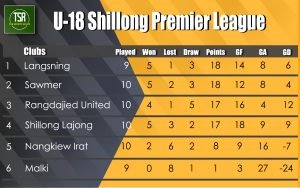 Nangkiew end the U-18 season in fifth place, while Lajong stay fourth. Tied on points with Rangdajied, the two teams can't be split by head-to-head as they played out two goalless draws against each other, so RUFC are in front on goal difference.
Tomorrow bottom side Malki go up against the leaders Langsning at 3:45PM.
(Photo contributed by Shillong Lajong FC. Lajong are in red, Nangkiew in white)