Shillong, Jul 14: Langsning confirmed their place at the top of the U-18 Shillong Premier League standings here today, but only with a narrow 1-0 victory over Malki.
Despite some serious pressure from Langsning in the second half, it looked like proceedings were heading for a draw, that is until Figo Syndai curled in a terrific free-kick over the Malki defensive wall and into the net in the 88th minute.
Langsning had already booked their place in the U-18 SPL final and fielded a team comprising a few players who weren't part of their first XI.
Malki started the stronger, with Sumarbaki Shylla making a good shot from the edge of the box in the 25th minute, which the Langsning goalkeeper put out only after pulling off a terrific diving save.
Soon after, however, Langsning fought back and created a solid chance of their own, only stopped by a fine save by Damekerlang Warjri in the 33rd minute.
Bottom side Malki had another promising opportunity two minutes before the end of the first half, but were denied by another good Langsning save.
Langsning were by far and away the more threatening team in the second half, but Malki held on resolutely until Syndai found his fifth goal of the season; a rather unfortunate infraction on the edge of the box had given away the free-kick to Langsning, which Syndai converted with aplomb.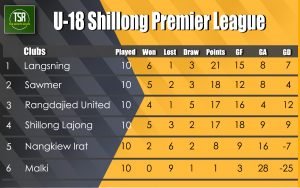 Malki thus end with their solitary point, which they secured after drawing with Langsning 1-1 on 4th July. Langsning, on the other hand, ride into the final against second-placed Sawmer on 21 points. They are the only club to register six victories in the 10 league stage rounds. And they are also the only team to have scored in as many as nine of their 10 matches, with 12 of their 15 goals coming in the second half.
(Photo contributed by Malki SC. Malki in black, Langsning in white)