Shillong, Feb 2: Meghalaya finished as runners-up in both the men's and women's finals of the North East Zonal Blind Football Championships, which were held in Itanagar last month.
The championships were organised by the Indian Blind Football Federation.
In the fourth edition of the men's event, hosts Arunachal Pradesh defeated national champions Meghalaya (featured photo) 5-4 in a penalty shootout at the 28th to 30th January tournament.
Nagaland were crowned champions of the first women's regional event, edging Meghalaya 1-0.
Nagaland and Manipur took third and fourth places respectively in the men's category, while Assam and Arunachal were third and fourth in the women's.
Meghalaya's Klingson D Marak (who was recently presented with the prestigious Kiang Nangbah Award by the state government) was the Top Scorer of the men's division and Player of the Tournament.
Ribanlin Lyngdoh of the Meghalaya women's team, meanwhile, was named Promising Youngster.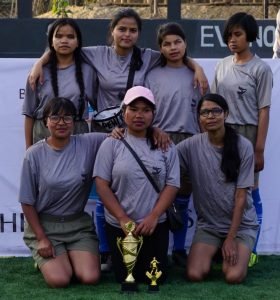 In blind football, all players except the goalkeeper are blindfolded and are assisted by a coach and a goal guide. The players are guided by the sound of the ball, which contains bells. The goalkeeper, goal guide (who stays behind the opposite goal) and the coach (who runs along the side of the pitch) are the three sighted assistants who call out and direct the players to move with the ball.
Awards (Men):
Promising Youngster – Nyonyok Tolom (Arunachal Pradesh)
Best Goalkeeper – Taning Markia (Arunachal Pradesh)
Best Defender – Boje Marbom (Arunachal Pradesh)
Top Scorer – Klingson D Marak (Meghalaya)
Player of the Tournament – Klingson D Marak (Meghalaya)
Awards (Women):
Promising Youngster – Ribanlin Lyngdoh (Meghalaya)
Best Goalkeeper – Jemima Sema (Nagaland)
Best Defender – Initoli Zhimome (Nagaland)
Top Scorer – Marylin (Nagaland)
Player of the Tournament – Marylin (Nagaland)
(Photos: Indian Blind Football Federation/Facebook)