Shillong, Sep 2: ENE Falcons and Sunnydale School Doves were unbeaten in what was a shorter than usual day of action in the Meghalaya Baby League 2018, which is the joint initiative of Tata Trusts, the Meghalaya Football Association and All India Football Federation, here yesterday.
The unavailability of the JN Stadium was partly the reason for only eight matches being held on the day.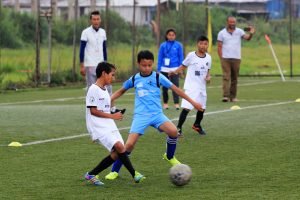 The Falcons won against Unified Gorkha Gators 4-0 and 5-3 in the 4-5 year and 6-7 year groups respectively, before then taking on Nongthymmai GC Scorpions in the other age groups. In these games the Falcons won in the 10-11 and 12-13 brackets, but drew 1-1 with the Scorpions in the 8-9 group.
Meanwhile, the Gators moved to face Sunnydale School Doves, to whom they lost in the 10-11 and 12-13 brackets, but they did manage to snatch a draw in a well-contested 2-2 match in the 8-9 category.
(Photos contributed by the Meghalaya Football Association. The featured photo is of Unified Gorkha Gators (dark blue) vs Sunnydale School Doves (lighter blue))