Shillong, Dec 26: Six I-League clubs have expressed their intense disappointment in the apparent reduction in the number of remaining matches this season that official broadcaster Star Sports will televise live.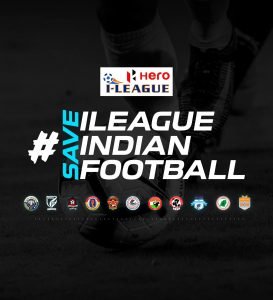 Images like the one above and this story's featured photo have been put up on social media (at the time of writing this report) by Aizawl FC, NEROCA, defending champions Minerva Punjab, Gokulam Kerala, newly-promoted Real Kashmir and the 2018-19 leaders Chennai City.
Before Christmas Star Sports announced that it will only broadcast 30 I-League matches live from 29th December, including the "final three last round matches".
What this means for local side Shillong Lajong is that seven games of the club's will not be broadcast on television – vs NEROCA away on 4th January, vs Indian Arrows at home on 13th January, vs Minerva away on 25th January, vs Churchill Brothers at home on 5th February, vs Chennai City at home on 18th February, vs Gokulam at home on 22nd February and vs Aizawl away on 2nd March.
Star Sports' decision has drawn the ire of the fans who follow the I-League as well as the six clubs who have been outspoken in their criticism.
Ranjit Bajaj, the owner of Minerva Punjab, has been the most vocal. In a tweet he slammed the FSDL (Football Sports Development Limited), the company that the Indian Super League as well as being the marketing partner of the I-League
Today, Bajaj alleged that I-League club owners are being both threatened and coerced into keeping quiet.
Deciding to cut coverage midway through the season will have negative consequences for the clubs in terms of sponsorship.
VC Praveen of Gokulam Kerala told Goal.com that prior to the season there was an expectation that Star Sports would not broadcast all the matches, but the clubs were then assured that they would be. "So this has come as a shock for all of us, mainly because we have told our sponsors about the viewership," he was quoted as saying.
In a separate Goal.com story, Mohun Bagan claimed that a drop in ISL viewership is the reason behind the decision to cut I-League coverage in order to reduce desire to watch the I-League, which will then, it's hoped, spur interest in the ISL.
Bajaj has also said that Minerva Punjab have hired a statistics company to track all his club's matches (which they do by watching them on TV) and the $15,000 (Rs 10.5 lakh) he paid them to analyse his team's games will be wasted.
I-League clubs have reportedly sought for a meeting with All India Football Federation President Praful Patel to discuss the matter.