Shillong, Sep 8: While Langsning Greenergy Lions won all five of their matches in the Meghalaya Baby League (MBL) 2018 on Saturday, it proved to be a very good day for Mawlatbah SC Hawks, Wahlakhiat Bulls and Kickstart FCC Rhinos too, as these three teams came away with four victories in their pockets.
Twenty matches were held on Saturday in MBL 2018, which is the joint initiative of Tata Trusts, the Meghalaya Football Association and All India Football Federation.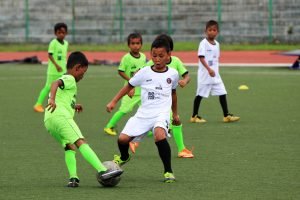 Touchline NE Cubs and the Rhinos got the action underway yesterday here at the JN Sports Complex and it was the Cubs who won the opening game in the 4-5 year age category, but the Rhinos then won all the other four matches.
It was slightly similar for ENE Falcons, who won the 6-7 age group 3-2 over the Bulls, but then lost all their other fixtures on the day as the Bulls proved to be just too strong.
Meanwhile, while the overall tally of games won and lost was much the same between the Hawks and Nongtrai Cheetahs, what made their matches different was how close some of them were.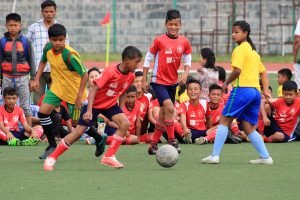 After losing the 4-5 group match at the Futsal Ground, the Cheetahs came back to take the 6-7 age category game 3-2 at the same venue. The 10-11 year match was also similarly close, with the Hawks taking it by a narrow 4-3 margin at the JN Stadium.
Finally, the Greenergy Lions continued their fantastic run on the pitch as they won all five games, scored 40 goals and conceded just two against the JNS Jaguars.
It was certainly a high-scoring day across all the matches – 140 goals in total were scored across 20 matches, giving us an average of seven per game.
(Photos contributed by the Meghalaya Football Association. The featured photo is of Nongtrai Cheetahs in orange and Mawlatbah SC Hawks in pink)