Shillong, Jan 30: Kmoin Wahlang stole the show at the Mumbai Marathon, which was held exactly 10 days ago, and sent TSR's Facebook page into a tizzy.
What made Wahlang so special is that she is a grandmother (either 70 or 71 years old) who took on and conquered the race distance of 42.195km. That distance might prove daunting to any one of numerous people younger than her, but Wahlang had even completed the 45km event as part of the Mawkyrwat Ultra, organised by Run Meghalaya, in October near her village of Shngimawlein in the Mawkyrwat area of South West Khasi Hills.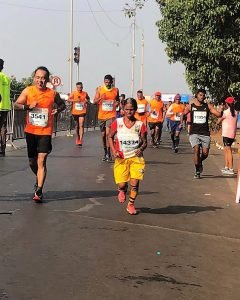 As part of the contingent from the state supported by Run Meghalaya, Wahlang headed down to Mumbai at the start of the year and finished the Mumbai Marathon in 4 hours, 33 minutes and 56 seconds and was the only woman competitor in her age bracket. In fact she was 89th out of 520 female runners, which puts her in the top 20th percentile!
She didn't just complete the race, but she ran the entire length consistently. According to the timing information on the marathon website, Wahlang ran at over 9km/hour right over the course of the race.
TSR's post on the day of the race went, if we can claim it, viral. It was seen by more than 1 lakh people and garnered over 10,000 reactions, 460 shares and an almost equal number of comments. Tributes and adulation flowed in, many congratulating the 'mei ieid' (grandmother) and dubbing her an inspiration.
So, just who is Wahlang? We've been told she's mother to 12 children and grandmother to 30.
The Indian Express did an article on the long distance runners of South West Khasi Hills – a region that has produced many – which featured Wahlang.
The article, penned after the Mawkyrwat Ultra 2018, states that Wahlang suffered from stomach issues after delivering her 12th child. Starting with regular walking, she then took up running, even though she didn't have running shoes at the time.
"When I first started — many told me, 'Are you mad. You will ruin your old body!' But running did to me what no doctor could. It fixed me," Wahlang told the Indian Express.
We can't forget to mention the other Meghalaya runners who took part in the Mumbai Marathon.
Tlanding Wahlang was second overall in the men's open marathon amateur category and first in the 40-45 age group with a time 2 hours, 40 minutes and 54 seconds. Darishisha Iangjuh was third overall in the women's open marathon amateur category and second in her 18-24 age group (3h:21m:08s). Swonding Mawlong was third in the 50-55 men's age group (3h:13m:45s). These three were also supported by Run Meghalaya.
Meanwhile, Kresstarjune Pathaw was second in the men's 18-25 age group with a time of 2 hours, 44 minutes and 5 seconds.
From the youth to senior citizens, Meghalaya's talent for running seems unbounded!
(Featured photo: Run Meghalaya)