Shillong, Feb 6: The Assam government has pledged Rs 10 crore to Meghalaya in order to help the latter hold the 2022 National Games.
The announcement was made today when Assam Finance Minister Himanta Biswa Sarma presented his government's budget. Sarma dubbed the offer a "goodwill gesture".
Cash-strapped Meghalaya quickly offered its thanks through a tweet by Chief Minister Conrad Sangma, which thanked his opposite number in Assam Sarbananda Sonowal and Sarma.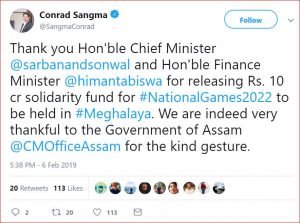 Sarma replied to Sangma's tweet, saying, "We would like to wish Meghalaya for a successful national games. Assam will offer every possible cooperation".
Speculation on Assam's purpose in lending such a helping hand was also almost as quick, with suggestions that the BJP-led Assam government, which is in favour of the contentious Citizenship Amendment Bill 2016, is trying to keep NPP-led Meghalaya government, which has vocally opposed the bill, happy enough so that the NPP doesn't cut ties with the government at the Centre.
2022 will mark Meghalaya's 50th birthday and India's 75th. Only two other North East states have ever hosted the National Games – Manipur in 1999 and Assam in 2007.
(Photo: Sarbananda Sonowal/Facebook)