Shillong, May 18: The Meghalaya Football Association's celebrations of AFC Grassroots Day concluded here today at Third Ground, Polo, with well over 200 children and adults taking part in a range of activities.
The Asian Football Confederation celebrates its annual Grassroots Day on 15th May with the intention to increase participation at all levels and stimulate greater interest in each aspect of the sport.
In this regard, the Meghalaya Football Association marked AFC Grassroots Day on Saturday, 11th May, with an afternoon of girls' football and today with a day of veterans', blind and children's football (boys and girls).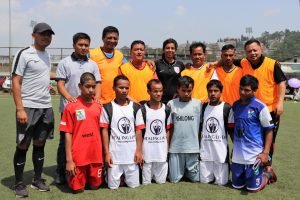 The AFC defines grassroots football as "all football which is non-professional and non-elite". This covers football for children, youth, amateurs, veterans, the socially disadvantaged and those with learning or physical disabilities.
A veterans' football tournament began in the morning and a combined team then took part in a blind football match against players from Bethany Society. In blind football all the players other than the goalkeeper are blindfolded. Bethany Society won the match 3-0. The match was watched by Anju Turambekar, All India Football Federation Head of Grassroots, who is on a visit to Shillong.
"Having played football in a blindfold you really realise how much skill the boys in Bethany Society have. It was a wonderful learning experience and a privilege to play against them," Wanshan Kharkrang, one of the veteran team members and the MFA Treasurer, said after the game.
Turambekar also congratulated the Bethany Society boys personally and wished them all the best for the future.
A festival of football was then held for 156 children (ranging from four to 13 years of age), with workouts, skill training and competitive football played out under the guidance of coaches, referees and officials.
(Photos contributed by the Meghalaya Football Association)