Shillong, Jun 16: In a change to the schedule, the U-18 Shillong Premier League will experience a run of double-headers from Monday.
Most days will see two games played, at Third Ground and the JN Stadium. Except for the first fixtures on Monday and Tuesday, all matches will begin at 3:45PM. The league stage matches will now end on 11th July.
On Monday Laban will take on defending champions Langsning at 1PM at Third Ground, followed by Nongrim Hills versus Nongkrem at 3:45PM at the JN Stadium.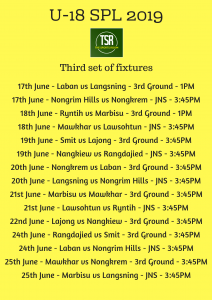 (TSR representative photo)