Shillong, Jun 30: With more than three-quarters of the U-18 Shillong Premier League 2019 over, Shillong Lajong look on track to finish the round robin stage in first place and the real contest is for second place and the other spot in the final.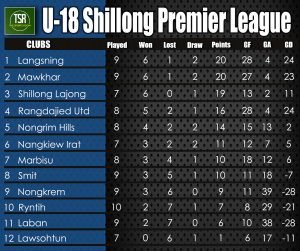 Lajong are currently in third place with 19 points but have two games in hand over Langsning and Mawkhar, both of whom have 20 points each. 
Rangdajied United also have a sniff for a top two place, while Nongrim Hills and Nangkiew Irat have mathematical, yet unlikely, chances. 
Look at the remaining matches and Mawkhar have a couple of tricky encounters to end with. They'll face Nangkiew on Tuesday and then Lajong on 8th July. Nangkiew may be sixth in the table, but they've played well, losing only to Langsning (1-0) and Lajong (2-1) while drawing with Rangdajied (0-0).
Defending champions Langsning, meanwhile, have to face Ryntih on Wednesday in a match they should win before going up against Rangdajied. 
RUFC's other two games are against Marbisu tomorrow at 3:45PM at Third Ground and Nongkrem on 10th July and they'll be confident in these two fixtures. 
Lajong have the most matches remaining of any of the top four sides. The two games they should breeze through will be against Nongkrem (4th July) and Laban (11th July) but the other two could prove more difficult. 
The first one is tomorrow at 1PM versus fifth-placed Nongrim at Third Ground. Nongrim must be cursing the casual way they approached Laban last Monday, which saw them slump to a 4-0 defeat. 
However, if they bring their A-game tomorrow Nongrim could cause SLFC a bit of a bother. They've already held both Mawkhar and Langsning to a draw, but on the negative side is the fact that they haven't kept a single clean sheet all season, conceding at least one goal in each of their eight matches. 
(TSR file photo)