Shillong, Jul 12: Meghalaya Police got their First Division campaign off to a rousing start with a 4-0 victory over Marbisu at the JN Stadium, Polo, today.
Backed up by the drumbeats that seem to follow them wherever they play, the police went ahead in the 26th minute through Teibor Siangshai and then doubled their advantage three minutes later via Vikram Chettri.
It was a similar tale in the second half, with Chesterfield Nongdhar and Everywell Khongjee scoring close together in the 76th and 79th minutes respectively.
There are nine teams in the First Division, namely Marbisu, MLP, Smit, Mawkhar, Imson, Sawmer, Lawsohtun, Mawlai and Nongkrem.
Mawkhar and Lawsohtun won promotion from the Second Division last year, while Meghalaya Police and Sawmer were relegated from the Shillong Premier League.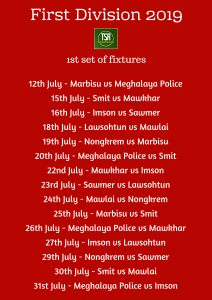 (TSR photo. Marbisu are in white, Meghalaya Police in red)