Shillong, Jul 25: The final round of Third Division Group D matches were played out at Second Ground, Polo, today.
In the first game Nongmynsong came from a goal down to beat Mawreng 2-1. Mawreng, who were leading the group table before this round, went ahead in the 19th minute through K Sohlang, but Nongmynsong struck back four minutes later through A Thabah before seizing the lead in the 65th minute via R Ryntathiang. This was the first time Mawreng conceded goals or lost a match this season.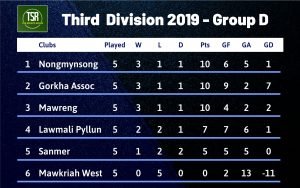 The second match was a battle for pride between the bottom two clubs – Sanmer and Mawkriah West. Sanmer came through as 3-1 winners with their scorers being J Khonglar (15′), B Dorphang (27′) and K Lyngdoh (29′). Mawkriah's goal was scored by S Sun (31′).
The third game then saw Gorkha Association sweep past Lawmali Pyllun 3-0 with goals from V Sharma (28'), A Ramsiej (31') and R Thapa (53').
Nongmynsong, Gorkha and Mawreng ended with 10 points each and according to our records Nongmynsong should thus qualify at the top on head-to-head basis as they had beaten the other two teams. The game between Gorkha and Mawreng was a goalless draw and so Gorkha are ahead on goal difference.
Tomorrow's fixtures (all Group B):
Mawshbuit vs Mawnianglah, 12:30PM
Nongkseh vs Young XI, 2PM
Pohkseh vs Mawtawar, 4PM