Shillong, Aug 16: Laitumkhrah withstood a second half charge by Sohiong to secure a 3-2 victory in Group A of the Second Division at Third Ground, Polo, today.
Onyxson Buhroy put Laitumkhrah into the lead in the 35th minute before Tyngshain Marboh made it 2-0 just two minutes later. However, things did not go smoothly for Laitumkhrah in the second half, with P Kharjana (64′) and D Jana (66′) scoring for Sohiong to level proceedings.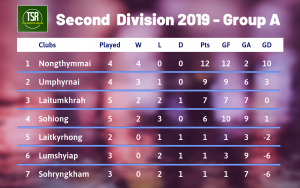 Laitumkhrah were able to snatch back the lead, though, with five minutes of regulation time remaining thanks to Aibanseibor Wankhar's 85th minute goal. His happened to be the 75th goal of the season.
The win takes Laitumkhrah above Sohiong in the points table, leading seven to six after five rounds. Interestingly, Sohiong have conceded three goals in three of their outings, while Laitumkhrah have conceded two in each of their last three games.
Tomorrow, in Group B, Mawryngkneng are scheduled to face Nongumlong at 3:15PM.