Shillong, Aug 19: The 2019 edition of the Shillong Premier League will kick off tomorrow at 3:30PM in a match between Ryntih and Laban at the JN Stadium, Polo.
There has been a slight change to the fixtures (see below for the revised schedule) and all of the first leg matches will now begin at 3:30PM. The JN Stadium will be the venue for the first 21 matches.
Langsning are the defending champions, but will not be seen in action until 24th August. Shillong Lajong were second last year, with Rangdajied United third. Malki are, of course, absent after being banned from the tournament following post-match violence on the part of their fans last season. Nangkiew Irat managed to avoid relegation last year, while Nongrim Hills gained promotion from the First Division.
Ryntih entered the SPL via an auction to fill Shillong United's vacant spot, after they failed to field a team in 2018.
Laban, meanwhile, got to the top division by being promoted from last year's First Division, which they won, beating Nongrim 1-0 in the final.
Ryntih pulled off a coup earlier in the year by signing up some of the best Meghalaya players from teams like Langsning, Lajong, Nangkiew and Rangdajied and they could prove to be a formidable outfit. In the pre-season they took part in Wahiajer SC's 5th Invitation Knockout Football Tournament, which they won last month.
Laban, meanwhile, are said to have signed numerous players from outside Meghalaya as well as hiring an outside coach after signing a big sponsor, though we don't have details on the players as yet.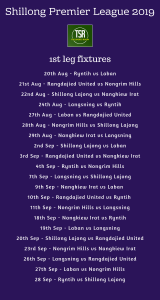 (TSR file photo)