Shillong, Aug 19: Lumshyiap came from 2-0 down to script a fantastic 3-2 victory over Sohryngkham in Group A of the Second Division at Third Ground, Polo, today.
Neither side had won a match this season prior to today, but Sohryngkham had a positive first half when they scored via K Kharpran (31′) and B Dkhar (38′).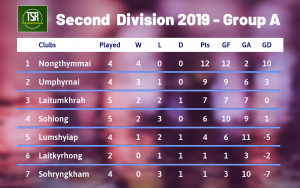 Lumshyiap managed to pull a goal back before the half time whistle thanks to S Makri, who scored his third goal in as many matches, and Lumshyiap added another two goals in the second half through L Mynsong (52′) and B Shadap (85′).
Lumshyiap are now in fifth with four points, while Sohryngkham remain at the bottom of the group.
Tomorrow, in Group B, Laitkor are scheduled to face Jongksha at 2PM.