Shillong, Sep 12: Lawsohtun kept their hopes of promotion from the First Division alive with a 7-1 walloping of Smit at the JN Stadium here today.
Lawsohtun's R Dkhar produced a hat-trick in the last 10 minutes (81', 83', 87'). The other scorers were F Nongkynrih (19'), S Suchiang (43' penalty), J Neihsiel (59') and T Nongkynrih (69').
Smit's strike was by B Kshiar (13').
This was Smit's last game. They began their season very positively, winning their opening two games against Mawkhar and Meghalaya Police. Lawsohtun, meanwhile, began slowly, going winless until their fifth match and they have a match still to go.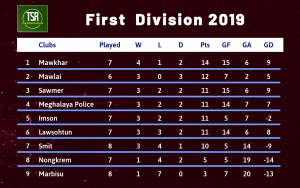 There are now four teams on 11 points each. Based on head-to-head Sawmer are at the top, followed by MLP, Imson and Lawsohtun.
Victory for Lawsohtun not only keeps their hopes of a top two finish still alive but also freed them from fears of relegation; Nongkrem now have no chance of escaping the drop and will join Marbisu in next year's Second Division.
On Monday table toppers Mawkhar are scheduled to face second-placed Mawlai at 3:30PM. Mawkhar need just one point to confirm a top two spot and a place in next year's Shillong Premier League.
(TSR photo. Smit's goalkeeper is in green, Lawsohtun in red/black)